The CompSim-Geometry and Meshing Team is pleased to announce Version 16.02 of the CUBIT™ Geometry and Mesh Generation Toolkit. The following is a sampling of new capabilities and improvements introduced in CUBIT™ 16.02. See the CUBIT™ 16.02 Release Notes for a complete list, which includes resolved user tickets and capabilities developed in support of Next Generation Simulation (NGS).
What's New…
Changes to Version Numbering:
CUBIT™ Release Cycle and Version Numbering XX.YY.ZZ change: In order to be more agile and responsive to user needs, CUBIT™ along with Sierra now follows 3-month release cycles. In order to support shorter release cycles, the version numbering of CUBIT™ has been changed to align with Sierra.
A Note on ACIS upgrade: The primary geometry modeler, ACIS, has been updated to a newer version ACIS 31.0.0.0. This newer version contains improvements for Booleans, faceting, checking, and healing. Journal files containing IDs, created with an older version of CUBIT™ may need to be updated with new IDs. Alternatively, the file could be converted to an IDless journal file and still play back successfully in older versions of CUBIT™ and also this new version. ID changes have been noticed in journal files performing webcut, tweak, and collapse operations.
Capability: Parallel MeshGems™ MG-Tetra_hpc is now the default tetmesher instead of the serial MG-Tetra. With MG-Tetra_hpc, users can expect to generate higher quality tet meshes and better adherence to prescribed sizes. A command has been added to change the tetmesher back to the serial version.
Capability: The trimesh scheme has been modified to better handle composite surfaces. If a composite surface has underlying geometric surface definitions, the actual surface definitions will be used by MeshGems™ hyperpatch meshing capability, allowing hidden curves of the composite to be ignored by the mesh.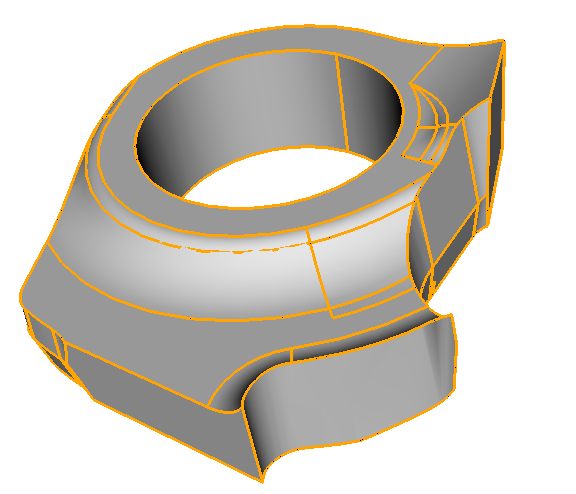 Capability: Geometry enhancements include a new option in reduce bolt tool to transform and rotate a bolt so that its center line is aligned with the center line of the hole. Also, added a new command to create a C1 continuous curve connecting two other curves. The below figure shows Taper or angle surfaces relative to a plane or axis defined by a curve or vertices.
Capability: The new adapt_material option added to Sculpt in Cubit 15.9 has been enhanced to specify multiple materials and expansion distance from the materials where adaptivity will occur.
On the Horizon
With changes to the copyright process, we expect to deliver CUBIT releases to government use notice (GUN) users in a timelier manner.
How to Get it…
CUBIT™ is available to anyone on the Sandia LANs. CUBIT™ 16.02 will now run automatically from the Linux command prompt, replacing CUBIT™ 15.9. It is also licensed free of charge for government use outside of Sandia. If you are a current CUBIT™ licensed user, you may get CUBIT™ 16.02 by visiting and following the instructions on the CUBIT™ Download page. See CUBIT™ Licensing for information on obtaining a license.
How You Can Learn More…
The CUBIT™ 16.02 Release Notes provide a description of all the new features included in CUBIT™ 16.02. For detailed information follow the links to the online users manual.
Classroom tutorials are advertised on the CUBIT™ Tutorial Webpage, where you can also find a download for self-guided tutorials.
For more information contact, CUBIT™ Product Owner Roshan Quadros.